Over Home Creations
Tapestry Jewelry
Jan Barnes - Jewelry Designer
Jim Barnes - Photographer
| | |
| --- | --- |
| | The Over Home homestead house in Virginia |
OVER HOME CREATIONS
Jan Barnes and husband, Jim Barnes, are co-owners of Over Home Creations, a multi-division company that sells original and handcrafted paintings, photography, sculpture, jewelry, and fine crafts online, at Fine Art and Craft Shows throughout the United States, and at Fine Art and Craft shops in Gatlinburg, Tennessee.
Holding fast to his deep family roots, the company was named to honor an expression in Jim's Virginia family that answered the question, "Where would I find Mom, Dad, or my siblings?".....the answer being, over home!
Over Home Creations is the parent company that oversees sales of Jan Barnes Leather Bracelets and creative, one of a kind, original Tapestry wearable art jewelry designs, as well as Jim Barnes Photography and Tiny Photographic Picture earrings and pendants.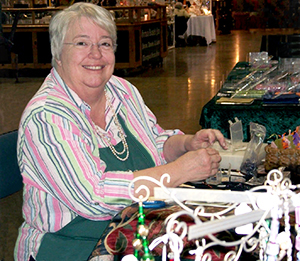 JAN BARNES-Jewelry Designer
Holding a Bachelor of Arts Degree, with a major in Education and minors and Endorsements in Art and Mathematics, Jan Barnes was a certified K-12 teacher for twenty-five years specializing in the education of students in 2nd through 7th grades. She holds a Teaching License in the states of Texas and Tennessee and ended her years as an educator in the city of Knoxville, Tennessee. She now makes her home in Sevierville, Tennessee, where her own personal family history roots extend deep into the Great Smoky Mountains and surrounding areas.
Jan has studied under the creative industry's finest jewelry, glass, leather, and metal instructors in Prescott Valley and Tucson, Arizona as well as at Arrowmont School of Arts and Crafts, in Gatlinburg, Tennessee, and has been a full time jewelry designer and creator of original wearable art since 2000. She is trained in multiple metalworking techniques including free form metalwork, enameling, fused glass, glass beadwork, chainmail, wire sculpting, and leather techniques, and delights in sharing her expert knowledge and skills with students in classes and workshops that she offers at various times and locations throughout the year.
JIM BARNES-Photographer
Jim Barnes has lived his entire life in the East Tennessee and Southwestern Virginia areas. Since his retirement as a professional engineer, he has concentrated on expanding his knowledge and interest in the field of photography and developing his specific expertise of photographing wild flowers, mountain scenes, and things from times past.
Having studied photography at Arrowmont School of Arts and Crafts, Smoky Mountain Field School, and the University of Tennessee, Jim's images have received special recognition at the Spring Wildflower Pilgrimage held at the Great Smoky Mountain National Park and have been featured on the City of Townsend, Tennessee, official web site.
Jim Barnes Photography has been displayed at the Blount County (Tennessee) Library, Arrowmont School of Arts and Crafts (Gatlinburg, Tennessee), and appears in the offices of several commercial businesses.
Photographs and photographic retail merchandise can be purchased at The Art Depot (Abingdon, Virginia), Great Smoky Arts and Crafts Community Easter, Thanksgiving, and Christmas Shows (Gatlinburg, Tennessee), and at select Fine Art and Craft Shows.
Taking an active roll in the production of products sold at Over Home Creations, Jim now offers his photography on handmade, handcrafted earrings and pendants labeled "Tiny Pic Jewelry" and is the official photographer of all Jan Barnes Tapestry Jewelry, Leather Creation Bracelets, and all images that appear on the Over Home Creations website.
OVER HOME CREATIONS LEATHER BRACELETS
Designing with exquisite European leather, sliders, clasps, closures, and findings, Jan Barnes offers leather bracelet creations for sale on this website, by custom order, at the Gatlinburg, Tennessee, shop and at fine arts and crafts festivals in Arizona, Virginia, and Tennessee (See SHOW SCHEDULE). These handmade, handcrafted, or custom ordered bracelets are made to your online ordering specifications when you place your order. CLICK HERE to purchase a bracelet already in stock. CLICK HERE to design your own bracelet online.
TAPESTRY JEWELRY
In addition to Over Home Leather Bracelets, original Jan Barnes Wearable Art Jewelry is sold under the name Tapestry.
Jan Barnes Wearable Art Jewelry encompasses a variety of techniques that create original and custom ordered designs. Each piece of jewelry is unique and there is never a repeated design no matter what materials and methods are used. Every necklace, bracelet, or pair of earrings is a one of a kind creation.
Relying upon nature as the basis for all Tapestry designs, Jan Barnes Wearable Art Tapestry Jewelry contains sculpted flowers and leaves or uses petal and leaf stones to mimic the organic sense of Earth elements. Crocheted and multi-strand necklaces are enhanced with crystals, pearls, and semi-precious stones and earrings incorporate stones and beads from many sources. Each original piece of jewelry creates a connection between the buyer and the natural surroundings that encompass the world of the wearer.
PURCHASE ONLINE, DESIGN ONLINE, or ORDER CUSTOM MADE JEWELRY
Jan Barnes Over Home Leather Bracelets and Jan Barnes Wearable Art Tapestry Jewelry designs are available for purchase on this website. Purchase in-stock bracelet designs sized to fit, design your own leather bracelet, purchase any original Tapestry Wearable Art Jewelry design, or purchase Tiny Picture photographic image earrings and pendants for something truly individual and unique.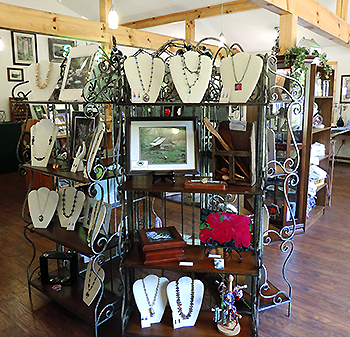 SHOP AT FINE CRAFT SHOWS or at FINE ART and CRAFT SHOPS in GATLINBURG, TENNESSEE
Meet Jan Barnes in person and purchase one of her wearable art jewelry designs or leather bracelets at one of the many Fine Art and Craft Shows listed on the SHOW SCHEDULE or shop at any of the Fine Art and Craft shops, in Gatlinburg, Tennessee, where Over Home products are sold and are also listed on the SHOW SCHEDULE.
FOR QUESTIONS, CONCERNS, OR SPECIAL ORDERS
Contact Jan Barnes TODAY for immediate assistance.
Special requests are gladly accepted.